Score Big on Home Bargains: Explore Tampa Bay Houses with Massive Price Reductions of 15% or More!
Posted by Amanda Canaan on Thursday, May 18, 2023 at 7:16:37 AM
By Amanda Canaan / May 18, 2023
Comment
The market is undergoing adjustments, and we're starting to see signs of it. In this article, we invite you to explore the developments in Tampa Bay's real estate market and view properties with significant price reductions..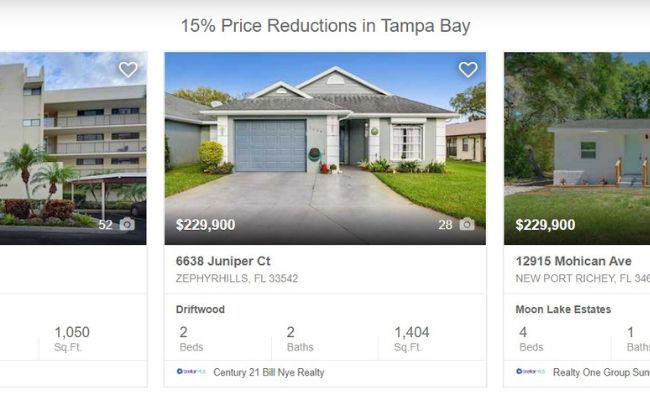 Signs of Market Adjustments
According to REALTOR.com, in April the Tampa-St.Pete-Clearwater Metro area saw homes stay on the market longer with the median days on the market at 50 days. It was only 23 days at this same time last year. The median listing price dropped 3.1% to about $410,000 with a reduced price share of 18.3%
In April, national home listing prices grew slightly from last year, following their usual seasonal uptick at the start of the spring homebuying season, but home price growth slowed to the lowest rate since April 2020. Many sellers are continuing to list their homes at higher prices as listing prices generally continue to rise, leading to a higher share of homes with price reductions in April compared to last year; however, the level is still below what was typical before the pandemic. The national median list price grew to $430,000 in April, up from $424,000 in March. Annual list price growth slowed to 2.5% year over year, the lowest rate of growth since April 2020.
Exciting Price Reductions
As the market adjusts, one of the most exciting aspects is the emergence of significant price reductions. We've curated a list of homes where sellers have made noteworthy price adjustments of 15% or more. These reductions present a fantastic opportunity for buyers to explore homes that may have previously been out of reach. From stunning waterfront properties to cozy condominiums, this selection showcases a range of properties now available at more affordable prices.
Seizing the Opportunity
Tampa's real estate market is in a phase of adjustments, showcasing signs of price reductions and increased affordability. The emergence of price reductions offers an exciting opportunity to explore homes at more attractive prices. As we navigate this period of market adjustments, it's crucial to stay informed. Remember to visit our website at TampasBestRealty.com to customize a search to find your perfect home.
If you need help customizing your search or want to view any properties, Call (813) 590-5080 to speak to us!
Happy house hunting!
Disclaimer: Prices and availability are subject to change.