From 'Unicorn' Years to Today: Navigating Homeowner Equity Fluctuations
Posted by Amanda Canaan on Thursday, June 29, 2023 at 7:57:01 AM
By Amanda Canaan / June 29, 2023
Comment
Understanding Homeowner Equity: A Closer Look at Recent Trends
Homeowner equity is a topic that often garners media attention, particularly when there is a reported drop in equity. It is crucial to recognize that equity is closely tied to home values. When home prices appreciate, equity tends to grow, but when prices decline, equity follows suit. In this article, we will delve into recent developments in homeowner equity, shedding light on the bigger picture.
The Rise and Fall of Home Prices:
During the 'unicorn' years, home prices experienced a rapid ascent, resulting in a significant boost to homeowner equity. However, it was evident that such extraordinary growth couldn't be sustained indefinitely. Last fall and winter marked a period of market moderation.
Impact on Equity:
As home prices experienced a slight decline in the latter half of 2022, homeowner equity was inevitably affected. According to the latest report from CoreLogic, there was a 0.7% dip in homeowner equity over the past year. However, it is important to note that the headlines portraying this change fail to provide the complete perspective. Despite the drop in equity caused by home price depreciation, homeowners still possess near-record levels of equity.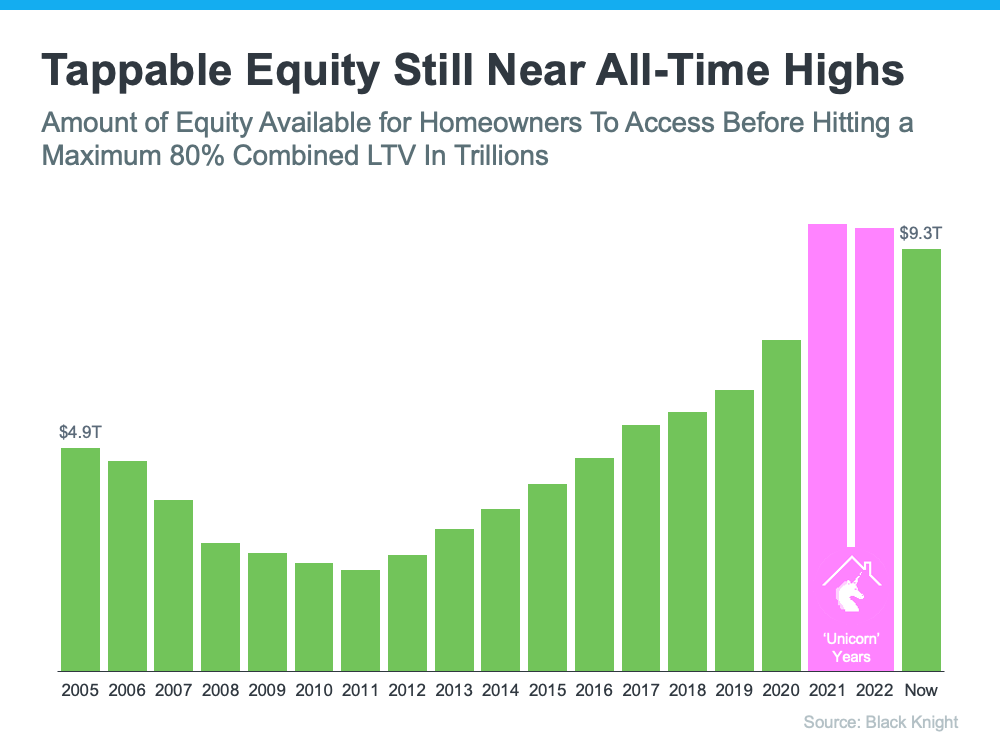 To illustrate this point, let's examine a graph depicting the total amount of tappable equity in the country dating back to 2005. Tappable equity refers to the equity accessible to homeowners before reaching an 80% loan-to-value ratio (LTV). The data reveals a significant increase in equity during the 'unicorn' years when home prices soared (indicated by the pink in the graph).
An Optimistic Outlook:
Encouragingly, recent reports on home prices indicate that the worst declines are now behind us, with prices beginning to rise again. Selma Hepp, Chief Economist at CoreLogic, highlights the correlation between home equity trends and changes in home prices, explaining that while the average equity amount declined compared to the previous year, it increased from the fourth quarter of 2022. This increase is attributed to the acceleration of monthly home price growth in early 2023.
Looking Ahead:
It is crucial to consider the last part of Hepp's quote, which emphasizes the positive shift that is already underway. Experts predict that home prices will appreciate at a more typical rate over the next year. Hepp further states that the average U.S. homeowner now possesses more than $274,000 in equity, a significant increase from the pre-pandemic value of $182,000. While some homeowners who purchased properties last spring may have experienced equity losses, the projected home price appreciation in the coming year should aid in recovering some of that lost equity.
Odeta Kushi, Deputy Chief Economist at First American, slightly varies the equity figure but reinforces the notion that homeowners presently possess substantial equity. According to Kushi, homeowners now have an average of $302,000 in equity in their homes.
When examining headlines, it is crucial to consider the broader context. Although homeowner equity experienced a decline compared to the previous year, it remains close to all-time highs. To gain a comprehensive understanding of these trends and obtain the answers you need for your plans this year, reach out to an expert who can provide the guidance you deserve.